Generic Character Asset v 0.2
A downloadable asset pack
Animated pixel art character which will fit any fantasy/medieval side-scroller or platformer game.
Attack preview: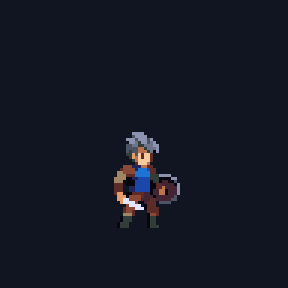 Run and slide preview: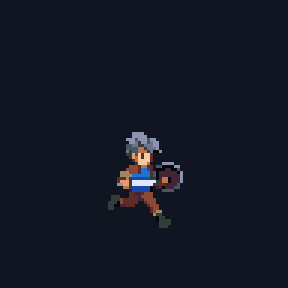 v 0.2 includes:
Idle;
Combo sword attack;
Critical hit (attack);
Running;
Walking;
Jumping;
Falling;
Sliding;
Wall sliding;
Taking damage;
Ladder climbing;
Сrouch;
Shield defence;
Spell cast;
Death.
Asset pack also includes 4 alternative character colors.

Licence: This asset pack can be used in free and commercial projects. Do not redistribute/resell it.

Join my Patreon to suggest and request asset updates.
Purchase
In order to download this asset pack you must purchase it at or above the minimum price of $9.99 USD. You will get access to the following files:
generic_char_v0.2.zip
243 kB
Comments
Log in with itch.io to leave a comment.
Are there any plans for an update? Thanks!
"Ladder climbing" is very nice, but it is incomplete without "Ladder enter"/"Ladder leave" animations. For reference (to understand what I am talking about) you can watch the animations of the main character Kaho in "Momodora: Reverie Under the Moonlight".
And since we can crouch, then it would be nice to have an attack animation for this state. Nothing complex – a direct forward thrust with the sword.
Many thanks.
Is there a preview of the run animation? That's usually the deal-breaker for me with a lot of these asset packs.
Pretty awesome overall though. If you ever decide to add a wall slide and a "dodge roll" animation this will be an instant buy for me (or if you add said animations into an separate purchasable pack or whatever).

Thanks for kind words! Unfortunately I can't post previews for other animations, but believe me, running is smooth and well done :)

I am working on update for this pack, wall slide and dodge roll are on my list. Also walking, resting and ladder climbing. But with next update the price will increase, so it's better to buy early and get free updates.
Thanks for the updated preview.
My initial thoughts after just purchasing:
Overall, I really like it -- I'm looking forward to seeing where this asset pack goes in the future. The "guide" images are very useful, I wish more asset packs did this. Also, having a few different colors to choose from is a great touch.
I would really like to see a run animation (or other animations in general) without the sword and shield in hand. For the game prototype I'm working on the player character doesn't always have a weapon equipped. I could probably do this myself with my mediocre pixel skills but without the source files (i.e. layers) it makes it a bit more difficult.
I'd absolutely love a "run" animation with the characters main hand pointed towards his back so I can easily swap out different weapons. I'm terrible at explaining this, so here's an example of what I mean (https://imgur.com/a/gjsDZ2F).
Sorry for writing a storybook here but I'll just throw in my animation "wish" list for potential future inspiration.
equipment-less animations
dodge roll
ledge grab / climb ledge
directional melee attacks (up, down)
dash
Thanks for your work.
i can't purchase :2015 vat, what the hack is?
Wow, this is incredible! Such beautiful, clean animations. Love it :D
Thank you! Do not forget to rate this pack. It is important to me :)
I rated as soon as I bought it :) Do you have plans to release expansions for this character in the future?
Thanks! Sure, I plan to add more animations in v 0.2. I am working on bigger asset with monsters and environment, so I suppose this pack will get the update with BIG pack release.
Omg, look at these amazing animations, and this awesome design, so fluid.